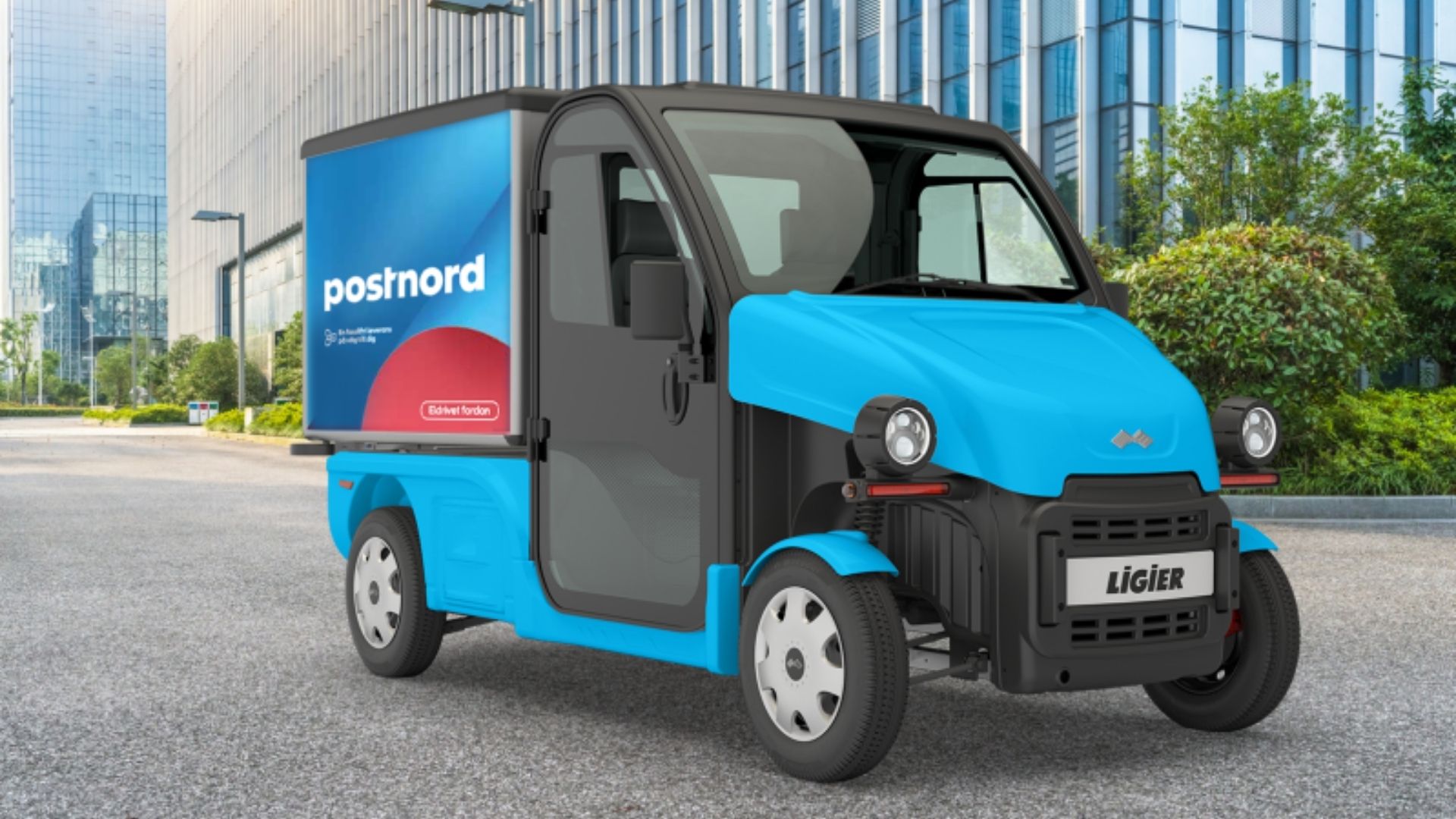 Ligier Group in cooperation with PostNord
A new electric low speed delivery vehicle at PostNord !
Ligier Group has, after the completion of public procurement by PostNord has been appointed as one of three official framework agreement suppliers of electric low speed delivery vehicle for last mile distribution throughout Sweden.
The Pulse 4 electric last mile delivery vehicle features as part of Ligier Group's Professional post electric vehicle delivery range. 
The Pulse 4 was selected after a thorough test and evaluation by PostNord where product performance and quality, total cost of ownership and aftersales featured in the criteria sought by PostNord. Test and evaluation also included field test by both postpeople and vehicle managers, where the vehicle's working environment such as driving characteristics and comfort were assessed.
The agreement covers a large number of vehicles and includes aftersales service throughout the whole of Sweden starting in 2023 until 2030.
Justin Bond Export Manager for Ligier Group and Jon Jansson Product Manager – Ligier Professional, Dealy Sweden (Ligier Group's exclusive Swedish vehicle importer) comment on the appointment:
– "We look forward to our joint partnership with PostNord by actively developing and delivering the next generation of efficient Electric Low Speed Vehicle for last mile distribution, and thereby contributing to PostNord's goal of reaching a completely fossil-free fleet of vehicle to 2030. An ambitious and important goal to achieve the reduction of the co2 footprint from the transport sector, a commitment that is also shared by the Ligier Group."
Background summary to the Pulse 4 and Ligier Professional:
Pulse 4 was developed in partnership with French Post – "La Poste" since 2010 has been the first choice of electric vehicle for the distribution of letters and parcels. Ligier Group are now official supplier to a number of postal organisations across Europe. 
The operational reliability and proven advantages of Pulse 4 have led to several other European posts including them as the electric vehicle last mile delivery solution of choice, among them; Italian Post and UK Post "Royal Mail" use the Pulse 4 in their daily postal rounds. 
There is a growing fleet of Pulse 4 in daily operation: Ligier Group vehicles combines account for in excess of 20million electric kms driven annually. 
Pulse 4 (Link to Pulse 4) is available in short and long chassis with a wide range of configurations to customers' specific needs. 
Ligier Professional has developed several unique configurations and technical functions such as the Quick Clip system, a system that makes it possible to quickly switch between different configurations. Together with the advantages of front-wheel drive, which eliminates the loss efficiency that otherwise is ineluctable with rear-wheel drive, and a rigid lightweight chassis in aluminium and Lithium batteries with charging technology of the highest quality, Pulse 4 provides a longer mileage with favourable operating costs as a result.
Manufacturing of Pulse 4 takes place in its entirety in the French town of Boufféré close to Nantes. Ligier Group also manufacture their Pulse 3 an electric tricycle for postal distribution here. The Pulse 3 features a patented technical pendulum steer solution for a more comfortable and safer working environment whilst keeping loads vertical in operation. Link to Pulse 3.
Pulse 4 is available in several different homologations, most commonly N1 45km/h, L7e 65km/h, L6e 45 km/h and MRK2 30 km/h.
For further information please contact;
Jon Jansson: jon@dealy.se
Justin Bond: jbond@ligiergroup.com